UCCS SFS - Resources -
About Us
---
Office Hours
Main Hall 2nd Floor - Cashier
Monday - Friday, 9:00AM - 5:00PM
(719) 255-3391
bursar@uccs.edu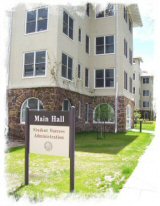 ---
Student Financial Services - Mission
The mission of the Student Financial Services (SFS) Office at the University of Colorado Colorado Springs is to efficiently enable and assist students and departments in meeting their financial obligations, with a focus on financial integrity and accountability. The SFS Office is responsible for the management of key university financial resources and records, and acts as a central collection point for university receipts. We strive to provide helpful and knowledgeable assistance to students, parents, faculty, and staff in a timely manner.
In fulfilling our mission, we promote and support a customer centric focus realized through the following Core Values:
Customer Service: We strive to provide helpful, knowledgeable assistance to students, parents, campus departments, and other constituents in a timely manner, and keep their interests in the forefront of our decision making.
Diversity: We respect all members of the community and strive to support the University's commitment to diversity in order to create a supportive and inclusive environment for all.
Employee Development: We value and support personal and professional development which leads to growth and a positive work experience.
Integrity: We value high standards of ethical behavior. We demonstrate and expect responsibility and accountability.
Continuous Improvement: We promote innovative uses of resources on behalf of our customers, seek ways to add value, and efficiently improve operations and services.
Quality: We value the consistent delivery of accurate, timely information required by our customers, and seek to be proactive in providing services.
Collaboration: We promote the sharing of ideas, teamwork, and communication in support of operations and strategic priorities.
Environmental Responsibility: We support the campus commitment to sustainability by making process improvements that reduce waste and energy consumption through the innovative use of technology.
UCCS Student Financial Services Mailing / Billing Address
**Make sure that you have written the Student ID# and have your correct address/phone# on your check before you send it!**
If you do not have your billing invoice's payment stub, or you are mailing your payment by CERTIFIED or OVERNIGHT EXPRESS mail, send your payment to:
University of Colorado at Colorado Springs
1420 Austin Bluffs Parkway
ATTN: Bursar
Colorado Springs, CO 80918-3733
For all other mail the general SFS mailing address is:
University of Colorado at Colorado Springs
ATTN: **SEE BELOW**
1420 Austin Bluffs Parkway
Colorado Springs, CO 80918-3733
Use the following header when addressing your envelope:
ATTN: Cashier - All main-campus tuition and fees payments.
ATTN: Bursar's Office - Billing-related documents.
ATTN: Online and Academic Outreach - All Extended Studies course payments.
ATTN: Student Debt Management - Any past due account payments.
ATTN: 3rd Party Sponsor Billing - 3rd Party Sponsor billing documents.
Staff - Contact Info
Bursar Office/ Main Number
(719) 255-3391
---
Customer Service Specialist
Cashier Office
Lori Van Dyke
(719) 255-3391
---
Accounting Technician III
Cashier Office
Christina Montoya
(719) 255-3391
---
Assistant Director - Cash Management
Cashier Office
Jesse Rochell
(719) 255-3391
---
3rd Party Sponsor Billing Specialist
Linda Garcia
(719) 255-3391
---
3rd Party Sponsor Billing Specialist
Ch.33 Post 9/11 GI Bill
Ch. 31 VR&E
Raymundo Alcaraz
(719) 255-3391
---
Sponsor Billing & Accounting Manager
Allison Noel
(719) 255-3391
---
Accounts Receivable Specialist
Cheryl Fedorkowicz
(719) 255-3391
---
Senior Collector
Silvia Henning
(719) 255-3391
---
Assistant Director - Accounting
Student Debt Management
Allison Milam
(719) 255-3391
---
IT Senior Professional
CU-SIS Production / Web / IT
Stephen Perucca
(719) 255-3391
---
IT Senior Professional
CU-SIS Production / Web / IT
Marcy Clegg
(719) 255-3391
---
Ryan Grodman
(719) 255-3391
---